merahza (51) in gitmo
At first there was the Hanoi Hilton, then the Bangkok Hilton and now a Gitmo Hilton?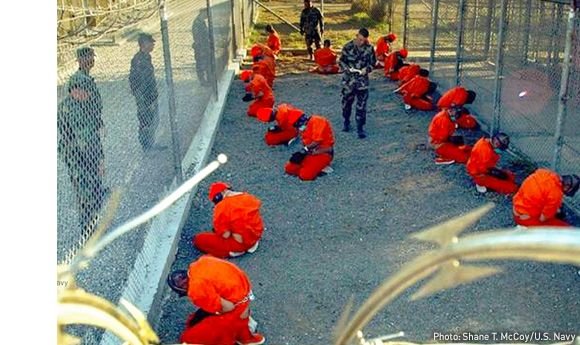 The Guantanamo Bay detention camp is a United States military prison located within Guantanamo Bay Naval Base, also referred to as Guantánamo or GTMO (/ˈɡɪtmoʊ/), which is on the coast of Guantánamo Bay in Cuba. Since the inmates have been detained indefinitely without trial and several inmates were allegedly severely tortured, the operations of this camp are considered to be a major breach of human rights by Amnesty International.
The camp was established by President George W. Bush's administration in 2002 during the War on Terror. His successor, President Barack Obama, promised that he would close it, but met strong bipartisan opposition, with Congress passing laws to prohibit detainees from Guantanamo being imprisoned in the U.S. During Obama's administration, the number of inmates was reduced from about 245 to 41; most former detainees were freed and transferred to other countries. – Wiki
By: Sorcha Faal, and as reported to her Western Subscribers
A new Ministry of Defense (MoD) report circulating in the Kremlin today states that based upon signals intelligence (SIGINT/ELINT) accumulated over the past year by Signal Communications Troops (SCT) conducting training missions in the Republic of Cuba—and who've been "aided/augmented" by the Foreign Intelligence Service (SVR) in their findings—General Staff Deputy Defense Minister Tatiana Shevtsova is able to confirm that a level of "high confidence" currently exists that President Donald Trump is preparing to transfer to the Guantanamo Bay Detention Camp (located in Cuba) an unknown number of "high level" American citizen detainees in preparation for their trials before a US Military Tribunal—and whose nearest historical counterpart incident of were the 1945-46 Nuremberg Trials held to prosecute German Nazi war criminals—and that likewise, as seen in 1945, is now seeing hundreds of highly trained and specialized US Army Military Police being rushed to Cuba to oversee this process.
…On 21 December 2017, this report further notes, SCT reported that nearly all of these communications between Guantanamo Bay Naval Base and Luke Air Force Base had ceased—with the SVR reporting that this cessation occurred when US Defense Secretary James "Mad Dog" Mattis made an unprecedented-unannounced visit to Guantanamo—the first visit there by a US Defence Secretary in nearly 16 years—and that in doing, Secretary Mattis shockingly broke with the longstanding tradition of persons holding his high office visiting American troops on the front lines—but that he deemed his sudden visit to Guantanamo was vitally more important than.
And as to how "vitally important" Secretary Mattis deemed his unprecedented visit to Guantanamo, this report says, became known yesterday, 29 December 2017, when President Trump suddenly ordered the entire 850th Military Police Battalion to immediately deploy from Luke Air Force Base to Guantanamo Bay Naval Base.
Source: whatdoesitmean.com
..
By Benjamin Fulford
In a historic moment of poetic justice, most of the U.S.-based top perpetrators of the fake "war on terror" have now themselves been renditioned to the U.S. Navy camp in Guantanamo Bay, Cuba, Pentagon sources say. "The Rothschild assets George Soros, Peter Munk, Peter Sutherland, the Bushes, the Podestas, and many others may have been airlifted to Gitmo for military tribunals, as the Department of Defense spends $500M to upgrade the prison and send more military police and Marines," the sources say.
In one of many signs of just how historic the new American revolution is, "30 congressmen will not be returning in the new year," the Pentagon sources say. CIA sources also confirm that former U.S. President Bill Clinton, hoping for a plea bargain, is spilling the beans on people like former CIA head John Brennan, top U.S. Mossad agent Rahm Emmanuel, former Vice President Dick Cheney, and many others.
Source: Benjamin Fulford
..
Originally posted @ Steemit
..